Analysis
Table 1: Financials of selected YKGI Peers (YKGI: excludes post IPO trading data)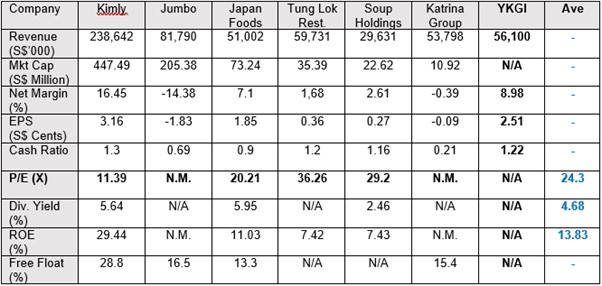 N.M. = Not Meaningful / N/A = Not Available
Table 1's selected financials of YKGI peers attempts to give a rounded picture of each stock.
For example, revenue and market cap pertain to size, net profit margin % and EPS to profitability, cash ratio to liquidity, P/E to valuation, dividend, and ROE to investor returns. But of course, for YKGI, some of these numbers are not yet available as at the date of writing ie 3 February 2023. Even among the listed peers, some of the financials are not available or not meaningful e.g. losses will render P/E Not Meaningful.
However, we can have an indication of what YKGI's potential or prospects are by searching for the peer with the highest degree of similarity to it. If we take those financials which are ratios, they are inter-comparable. (Revenue is not comparable not only because it is not a ratio, but more importantly, the business of a company usually enjoys significant economies of scale as revenue grows).
The retail F&B business has very significant economies of scale such as in bulk purchasing, fixed costs, and central kitchens, which is why every retail F&B company wants to set up a chain of branches.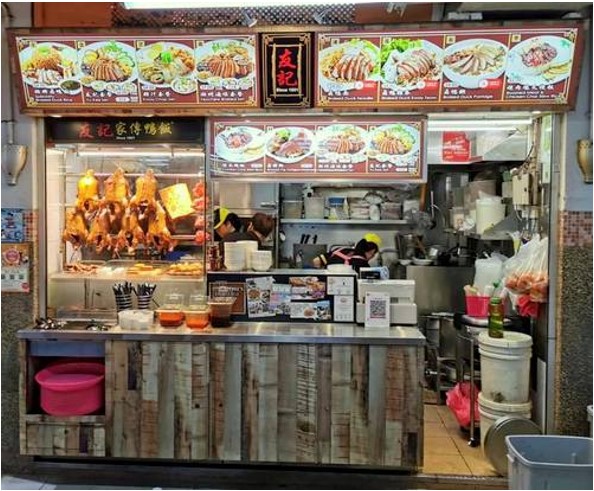 Just by looking at YKGIs products and business model, we can see that it bears more similarity to Kimly than to the other peers listed here. Duck rice stalls, food courts, minced meat noodles, and chicken rice. Definitely not Tung Lok shark fin or Jumbo chili crab.
Is this true? We take those financials that are available and comparable for all 6 companies here: Net Profit Margin, EPS, and Cash Ratio. This is not a comprehensive comparison, but it will give you a rough idea of the degree of similarity/dissimilarity between the six companies. After all, cash flow and high net profit margin are two main characteristics of retail F&B that are also prized by investors. It is unfortunate that for our selected period of study FY2021, the Covid-19 pandemic's mobility restrictions as well as economic impact wreaked havoc on high-end retail F&B like Jumbo and Tung Lok where demand is more elastic.
It is not so painful to forego shark fin and chili crab if you can have duck rice and chicken rice. Even the mid-tier Katrina Group that has to pay high rentals for their mall outlets suffered as economies of scale reversed into diseconomies of scale. As for Japan Foods despite operating as restaurants in malls it has had a long track record of profitability. But the reasons for its resilience can only be discerned with a detailed study of its operations and management.