Linear work and exponential work mentality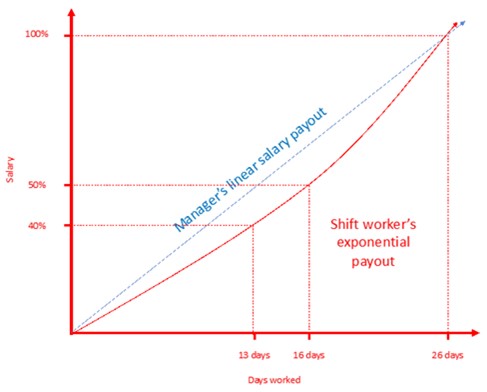 PMET vs Shift Worker's 26-day Monthly Salary Payout Curve
In his book, Sun Tzu Art of War, 30 Ways to Transform, Dr Yap described a day-based worker's mindset as "linear work mentality" and the hour-based shift worker's mindset as "exponential work mentality". For example, a PMET who draws a fixed salary of $3000, for a 26-workday calendar of 8 hours a day, would get exactly half his salary for 13 days of work. Thus, his salary is a linear function of days worked.
But for hourly-based workers, who typically work in shifts due to the nature of their jobs, the Ministry of Manpower regulations specify 8 hours of work per day, 44 hours of work per week,176 hours every four weeks as basic salary. Hours beyond these are defined as overtime payable at 1.5 times basic salary. MOM also limits every worker to a maximum of 72 hours overtime; and it has become a statutory offence to roster an officer beyond 72 hours overtime.
This is a recognition of the fact that overwork can affect the worker's health, alertness level, and ultimately workplace safety. Thus, a shift officer can only work 240 hours (188 + 72) which translates to 22 workdays. This means that the shift worker can only earn 50% of his salary for 16 days and not 13 days of work. The shift-based worker's earnings are thus an exponential function of hours worked due to the rate of overtime and incentive pay being >1.
(Additionally, when the company rosters a shift worker on a public holiday or during his scheduled rest day, it will need to pay double the basic rate).
Essentially, the shift-based worker's priority is clock up his scheduled 17 days of work for his basic salary, and then go on to earn overtime income to supplement the inadequate basic salary. This creates a mindset that is detrimental to workplace safety and the worker's health and alertness level.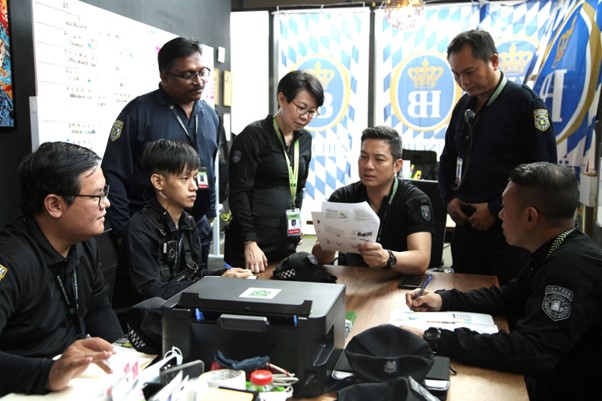 "The key to productivity is to manage people and not to manage work", says Dr Matthew Yap.